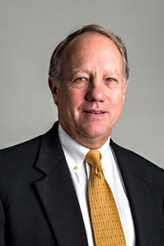 Attorney
(512) 347-1611 x20
chuston@ipaustin.com
vCard

Area of Practice
Professional Background
Education
Admissions
Memberships
Area of Practice
Mr. Huston's practice has included all aspects of patent law, including acquisition, licensing, and enforcement. Mr. Huston's recent practice has included licensing, joint ventures and litigation, as well as claim funding of patent suits and patent portfolio development and analysis. His patent portfolio practice includes not only U.S. patent prosecution, but foreign prosecution, assertion, and entity considerations for assertion, tax, and licensing.
His technology emphasis in the past includes a wide variety of areas, such as high performance computing, data migration, medical device, computer vision and location based technologies. His current emphasis includes artificial intelligence, augmented and virtual reality, and computational photography.
Professional Background
Mr. Huston has worked in the intellectual property field for over thirty years. His current practice is directed primarily to patent related analyses, patent procurement and related counseling issues, although he has extensive recent background in litigation and post issue practice.
Prior to entering the legal profession, Major Huston was a combat pilot for the U.S. Air Force. He retired from the Air Force Reserve 1996. During his Air Force career, he flew A-10's, RF-4, F-4D, F-4E, F-16A, and F-16C for a variety of units.
Education
University of Nebraska J.D. 1982 (with honors); Order of the Coif; Nebraska Law Journal; Nathan Burkan award
Stanford University, B.S.I.E. 1977; admitted to Stanford graduate school with graduate work in computational methods and computer science.
Admissions
State Bar of Texas
U.S. Court of Appeals for the Federal Circuit
Registered to practice before the U.S. Patent and Trademark Office
Memberships
State Bar of Texas
Texas Bar Foundation
State Bar of Missouri
Austin Intellectual Property Law Association
Licensing Executives Society (LES)